Shandong Huajin Home Textile Co., Ltd (Zhangqiu Huajin Textile Mill)
is located in the Zhangqiu government station—Mingshui Town which is 40 kilometers east to Jinan City ,It is 40 kilometers to Jinan International Airport and 300 kilometers to Qingdao Port ,enjoys very convenient transportation and communication. station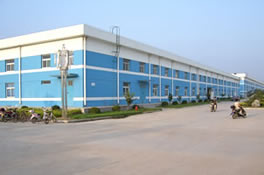 Shandong Huajin Home Textile Co., Ltd. which belongs to a large city-owned enterprise group-Shandong Dongfeng Coal Group is a textile company with Import and Export License. Our main products are as follows: velour towel with printing series, solid colored towel with spiral border series, yarn dyed towel series,etc.,velour towel with printing is our main product. We can supply domestic and international users with high and medium grade towel blankets, bath towel, beach towel, hooded towel,towel, pillow towel, hand towel, bathrobe and so on.
It has a fixed assert of 60 million RMB and covers an area of 303 MU, There are over 600 employees working in the company, 80 of whom are technicians.
The annual output can be to 2000 tons
.It is experiential in manufacture for more than 20 years holding 4 sets of Taiwan-made plate screen printing machines,200 sets of looms, 5 sets overflow dyeing machines, 8 sets of box style yarn dyeing machines, 5 sets of drying machines ,1 open-width scouring-bleaching machine, 1 suppress washing machine.R & D Center is well-equipped,We have advanced Auto CAD and computer-to-plate system, own design capabilities.
We always adhere to the "continuous improvement" quality management philosophy, constantly optimize the equipment and process management, and rely on a strict process control to ensure the stability of product quality .In environmental governance, we insist on the concept of sustainable development.invested 3 million yuan to build the sewage disposal system,sewage discharge pass regular monitoring of local environmental management department, and meet the required standard.
While seek the development of enterprises, we do our best to bear the responsibility for employees, consumers, community and environmental, emphasize the attention to human values in the production process, emphasize the contribution to consumers, the environment,society. Social responsibility runs through the company's overall business activities,We attach importance to cultivate awareness of the social responsibility of employees to enable each employee to fulfill their social responsibilities everywhere in the actual daily behavior .
With strict quality management, first-class hardware facilities and on-site management, our products are exported to five continents, and rely on high-quality products and services, We grow into an unit of attaching importance to the contract and keeping our promise . In the future, we will fully exert the funds advantages of Group and our own talent advantages, strengthen internal management, strive to open up domestic and foreign markets, to make towel industry big and powerful,and then realize the rapid development of overground enterprise of Group.